See how you can improve your smile
If you're looking for a trusted and highly experienced cosmetic dentist in Leatherhead who offers the latest treatments, our modern clinic can help.
You'll benefit from a cosmetic dentistry team which includes dental surgeon Dr Homa Rezaie, who has over 29 years extensive dentistry experience.
Meet our expert cosmetic dentist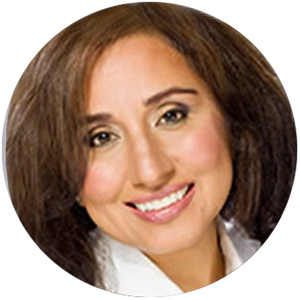 Dr Homa Rezaie, BDS
Dr Homa Rezaie has over 29 years extensive dentistry experience including qualifying from the Royal College of Surgeons UK in 1994. Homa has a passion for striving to offer the best client experience and unsurpassed service. She is proud of the dedicated team that share her vision in this.
Homa has an infectious energy and enthusiasm in creating the best environment for our clients.
Before joining our practice, Homa spent 17 years as a popular and very successful practice owner and principal dentist in Surrey. She is also the founder of a highly regarded Central London practice as practice owner and Principal with a large following of high profile clientele.
We provide safe and effective Home Teeth Whitening treatment, as well as many techniques for Repairing Damaged teeth, such as Porcelain Veneers for teeth that are chipped or more severely discoloured. We can also combine a number of cosmetic treatments, including facial rejuvenation techniques for a complete Smile Makeover. If you have crooked teeth then there are also a multitude of options to straighten them.
To find out more about our treatments for restoring your smile please select one of the options below.