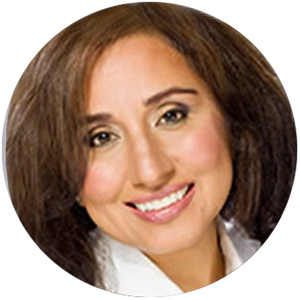 Dr Homa Rezaie
BDS MSc DDPHRCS
DENTAL SURGEON, GDC No: 67093
Dr Homa Rezaie qualified from the University of Dundee in 1991 with subsequent academic and teaching positions at Kings College London. Homa has a passion for striving to offer the best client experience and unsurpassed service. She is proud of the dedicated team that share her vision in this.
Homa has an infectious energy and enthusiasm in creating the best environment for our clients.
Before joining our practice, Homa spent 17 years as a popular and very successful practice owner and Principal in Surrey. She is also the founder of a highly regarded Central London practice as practice owner and Principal with a large following of high profile clientele. She has chosen to return to Surrey to serve a multi-generational community which is where her passion and enjoyment of dentistry lies.
Clinically, Homa has a special interest in minimally invasive dentistry. She has many years' experience of providing family dentistry as well as cosmetic and restorative dentistry as a Principal dentist.
Homa has been a Certified Invisalign provider since 2010 and is also a Six Months Smile provider. She has a wealth of experience in improving and creating beautiful smiles. Homa provides the best quality of ceramic and tooth coloured restorations with excellent longevity.
She is a highly regarded general practitioner with excellent diagnostic skills and is often consulted for second opinions by many of her peers far and wide. Homa regards all her patients as individuals with unique needs and is very tuned in to involving them when choosing the most suitable treatments. She is sensitive to her patients unique and individual needs and ensures they feel fully involved.
Homa is dedicated to putting anxious or nervous patients at ease and treats all patients with compassion and kindness.
Her love and enjoyment of dentistry means she embraces every day at work with pleasure. In her spare time Homa plays tennis, is a writer of short stories and spends time with her family and friends.