If you're looking for affordable, long long lasting and natural looking porcelain veneers in Leatherhead, our friendly and modern clinic can help.
You'll benefit from a dental veneers team which includes dental surgeon Dr Homa Rezaie, who has over 29 years extensive dentistry experience.
Dental veneers are a quick and effective way to restore your smile. Discoloured, damaged or misshapen teeth can leave many people feeling self-conscious when talking or smiling.
At Horsley Dental we can transform these with veneers to give you a smile to be proud of. The results look very natural and the treatment is less intrusive than other alternatives.
Meet our expert veneers dentist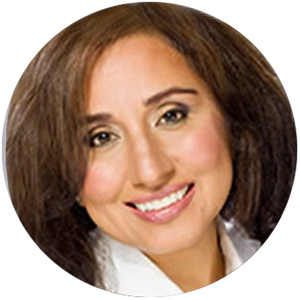 Dr Homa Rezaie, BDS
Dr Homa Rezaie has over 29 years extensive dentistry experience including qualifying from the Royal College of Surgeons UK in 1994. Homa has a passion for striving to offer the best client experience and unsurpassed service. She is proud of the dedicated team that share her vision in this.
Homa has an infectious energy and enthusiasm in creating the best environment for our clients.
Before joining our practice, Homa spent 17 years as a popular and very successful practice owner and principal dentist in Surrey. She is also the founder of a highly regarded Central London practice as practice owner and Principal with a large following of high profile clientele.
The advantages of veneers
A Dental veneer is a thin shell, typically made of porcelain, that is bonded to the front of the natural tooth. As well as looking great, they also have several other advantages.
Using advanced technology we are able to tailor them to a specific shape, meaning your new smile looks balanced and even. We can also match to exact colour shades. If you have a tooth that is particularly stained, we can fit a porcelain veneer that is the same colour as the rest of your teeth.
Veneers can also be fitted to several teeth, brightening your smile more generally to the shade of your choice. This control of shape and colour allows us to achieve great results. Veneers are very durable and are also resistant to staining, meaning your smile will stay looking great for longer.
See how veneers work
Your appointments
At the initial consultation appointment your dentist will assess if porcelain veneers are appropriate for you. The process will be fully explained and you will have the opportunity to discuss the results you would like to achieve and ask any questions you may have.
The treatment itself begins with the preparation of the affected teeth and the taking of impressions to ensure that the new veneers fit accurately and are the exact shape required. When the new veneers are ready (typically one to two weeks later) they are securely fitted into position using a special adhesive.
What next?
If you think that porcelain veneers might be for you, please call our reception on 01483 281 414 to arrange a consultation. To find out how much porcelain veneers cost at Horsley Dental, please visit our Fees page to see our latest prices.