Beautiful Smiles in Surrey
If you're looking for the very best Smile Makeovers in Leatherhead, Surrey, then our highly experienced smile makeover dentist at Horsley Dental can help.
With our range of easy, comfortable and convenient treatments you shouldn't feel the need to hide your teeth any longer. Smile confidently and give people something to remember!
Meet our expert Smile Makeover dentist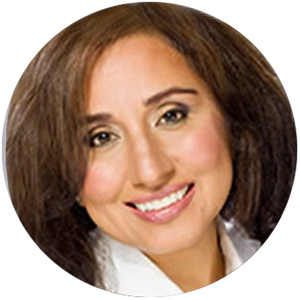 Dr Homa Rezaie, BDS
Dr Homa Rezaie has over 29 years extensive dentistry experience including qualifying from the Royal College of Surgeons UK in 1994. Homa has a passion for striving to offer the best client experience and unsurpassed service. She is proud of the dedicated team that share her vision in this.
Homa has an infectious energy and enthusiasm in creating the best environment for our clients.
Before joining our practice, Homa spent 17 years as a popular and very successful practice owner and principal dentist in Surrey. She is also the founder of a highly regarded Central London practice as practice owner and Principal with a large following of high profile clientele.
Why choose a Smile Makeover
Studies show that our smile is the most noticed and remembered feature when we meet someone new. At Horsley Dental we can give you a complete Smile Makeover, combining a number of different cosmetic treatments for a dramatic, overall transformation.
The latest, advanced dentistry we offer means that a beautiful smile is now more accessible and affordable than ever.
The Advantages of Smile Makeovers
A Smile Makeover can dramatically improve your smile and give you more confidence as a result. Many people would like to improve the appearance of their teeth for a variety of reasons. Smiles can easily lose their original radiance over time, with poor oral care, lifestyle choices and the natural affects of aging all potential factors.
At Horsley Dental we can design a specific Smile Makeover plan for you, to target all the areas where your teeth can be improved to give you a beautiful new smile.
Each Smile Makeover case is unique and we personalise your treatment programme based on the starting condition of your teeth and the results you would like to achieve. We also consider the wider picture as the final result should be sympathetic to the overall appearance of your face (such as lips, hair colour and the tone of your skin).
Your Appointments
At the initial consultation appointment your dentist will examine your teeth and assess if a Smile Makeover is appropriate for you. The different treatment processes will be fully explained and you will have the opportunity to discuss the results you would like to achieve and ask any questions you may have.
What Next?
If you think that a Smile Makeover might be for you, please call us 01483 281 414 to arrange a consultation. To find out how much our treatments cost at Horsley Dental, please visit our fees page.