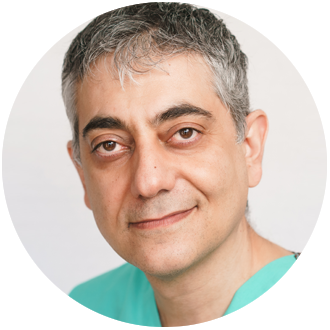 Dr Farzad Borumandi
Consultant Oral and Maxillofacial Surgeon, GDC No: 256769
Mr Borumandi is a consultant Oral and Maxillofacial Surgeon and is dually qualified in medicine and dentistry.
Having graduated in dentistry from University of Freiburg, Germany he was inspired to specialize in Oral and Maxillofacial Surgery.
Mr Borumandi graduated in medicine from University of Bern, Switzerland. This was followed by 2 years of core surgical training in General Surgery, Accident and Emergency, Orthopaedic Surgery, Trauma and Intensive Care.
Mr Borumandi completed OMFS specialist training in University Hospital Salzburg, Austria.
After moving to the UK, Mr Borumandi gained further experience in NHS hospitals including Oxford University Hospitals, Royal Surrey County Hospital, Guildford and Queen Victoria Hospital in East Grinstead. He completed a fellowship in Thyroid and Parathyroid Surgery in St Richard's Hospital, Chichester.
Mr Borumandi works primarily at University Hospitals Sussex, St Richards Hospital with additional sessions at Worthing Hospital and Southlands Hospital.
Areas of interest
Thyroid and Parathyroid Surgery; Head and Neck; Salivary Gland Surgery; Skin Surgery; Facial trauma; Dentoalveolar Surgery (Wisdom teeth, Impacted and displaced teeth); Implantology; Pathology of the Jaw joints